– Greetings. Would you mind telling me the simplest, quickest strategy to make a good fortune on Instagram?
– Good day. The possibilities to earn money from Instagram are many. You could blog, create a store online, advertise, etc. Alternatively, you can work as an Instagram administrator if you seeking the quickest way. The salary is excessive actually. Enough and to spare!
Did you look through this discussion?
Hundreds of questions on this topic are sent to us each day by our half a million followers on Instagram. Hence, in this article, we will describe an Instagram administrator's role from the ground up.
 Needless to say, a few sections of this article are referred to managers as we will discuss considerations for taking an Instagram admin into employment.
Let's be specific about it. Most of us are likely familiar with the term "Instagram admin"; However, what is the proper explication of this term?
Who is an admin?
  Who do we refer to as an Instagram administrator? Instagram admin position is a well-paid job that is needed for accounts with thousands of followers to keep things running smoothly. Getting to the bottom, it means:
"One who is responsible for a brand or an online shop's Instagram page."
 In the next part of this article, we will certainly cover the duties that come with this job.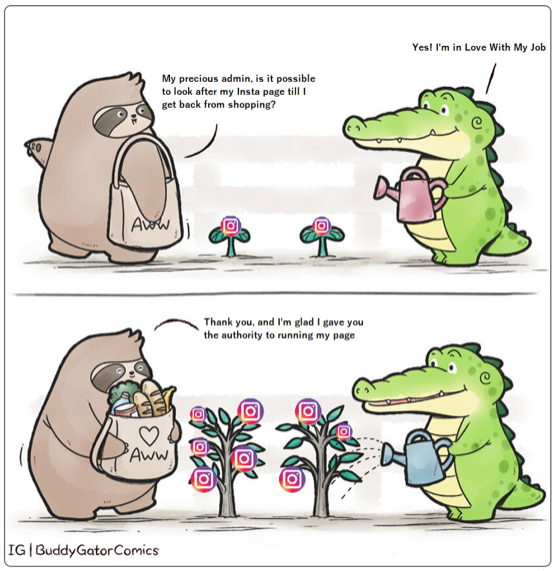 Advantages of being an admin
Home-based work is possible.
There is no cost to start.
Multiple projects can be handled simultaneously
A single phone number is sufficient.
What are the steps of turning into an Instagram admin?
 To this point, the article hasn't been too complicated; Yet you may be wondering how could you make it as an Instagram administrator? And where can we receive tutors on becoming an admin? It is important to know that an administrative job can only be obtained by training. It is therefore imperative that you understand Instagram entirely and thoroughly.
 Getting started on Instagram can be tricky, so get accustomed to fundamentals and points first. For instance:
It is important to know Instagram's rules

 

To use the program properly, you must be familiar with its various components.
Identify various kinds of creating content and gain the ability to apply them (e.g. posts, stories, IGTV, and more).
Learn how to get more followers.
Having a basic understanding of hashtags is necessary.
It is imperative to acknowledge the art of engaging with your followers.
You need to be aware of methods of advertising on Instagram.
And so on…
While earning money from being administrative is simple and fast, you won't be able to succeed without expertizing in the first place. Many methods can be used to acknowledge them. There are several instructive articles and videos available on Google right now; you just need to search for them. You could also experiment and see what works best for you by making errors.
Duties of an Instagram page admin 
 An admin is responsible for controlling an Instagram account. Each account will have its requirements based on its demand. Therefore, at times the administrator would merely reply to Instagram direct messages, and other times they would offer guidance. 
 At this moment, if you are willing to master administrative techniques, or are eager to find out what a pro and efficient admin is obligated to do, review the suggested list:
Content creation capability

(stories and posts)

Organizing content
Engaging with followers
Handling direct messages
Growing the number of followers

Insta-advertising

Business development and promotions

Insights into Instagram page data
 However, we want to stress that the responsibilities of an admin can go up and down depending on the page's requirements. The more skilled you become in this field, the more successful you will be and therefore, you'll be able to earn more money out of it.
Salary of an Instagram admin
 The salary of an admin stands on various aspects. In any case, if you are curious about the last update of an admin's payment, we recommend you to check on placement websites, or ask the admins personally. 
 Instagram admins earn an average of $1,000 to $5,000 (per month). This amount could even rise! Want to know how?
This fortune relies on many factors:
The amount of time they spent to get trained, learn, and experience daily.
Gaining expertness in content creation, Business development and promotions, advertisement, engagement, etc.
Count of pages with which they collaborate.
How many admins can we hire for Instagram account management?
That's true!
 It is possible to recruit multiple administrative assistants simultaneously as an employer, But account access cannot be restricted, sadly. Consequently, the admin must know your username and password. So choose carefully whom to trust.
Final question…
 During this article, we examined the responsibilities of an Instagram admin and discovered the advantages of being recruited as an administrative. Here's a question we'd like to ask you: Do you have any experience as an admin? Do you ever consider recruiting an admin? Let us know what you think by leaving a comment!